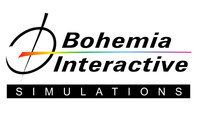 Description
We are developing world leading game-based military simulations for major NATO powers and their allies. We are constantly looking for ways to advance the whole industry, using the latest technologies and trends (such as whole world simulation, virtual reality and motion tracking).
Position Overview
Responsible for supporting the research, design, implementation, documentation, and maintenance of new and existing systems and the creation of new software solutions. You will work internally with other software engineers, program managers, and product owners to deliver quality solutions in the expected time frame, using your experience and judgement. You will be considered a solid contributor, and will be looked up to raise the bar with engineering fundamentals and leadership.
Key Areas of Responsibility
Designs, modifies, develops, writes, and implements software programming applications
Provides technical support to project team members
Familiar with a variety of the field's concepts, practices, and procedures
Relies on experience and judgement to plan and accomplish goals
A wide degree of creativity and latitude is expected
May report to director, manager, or senior engineer
Management
Maintains professional attitude during all stages of development; excels as a team member
Offers solid communication skills, both oral and written
Observes deadlines; endeavors to exceed expectations
Process
Conduct task analysis, and work estimations; identify dependencies and risks
Suggests technical direction for tasks, and input toward code design and architecture
Requirements
Must be a US Citizen
Must be willing and able to obtain a security clearance.
Knowledge
Demonstrate fluency in C/C++
Demonstrate advance problem solving skills
Demonstrates advanced understanding of algorithms and data structures in designing software and completing designated tasks
Uses advanced understanding of software design paradimns, and best practices in day to day tasks
Understanding of standard software development tools including Visual Studio
Quality
Demonstrtates proper and appropriate techniques in programming methods, documentation, testing, and review
Checks the consistency and quality of team members on a daily basis
Seeks to establish proper methods for the adherence of code quality across the company
Benefits
32 hours of paid sick leave per year
Starting at 96 hours of paid vacation per year
10 paid holidays
Significant company contribution towards medical benefits
Safe Harbor 401(k) Qualified Retirement plan, including a 3% company contribution
Company paid Life Insurance plan
Bonus incentive program
Bohemia Interactive Simulations, Inc. (BISIM) is an Equal Opportunity/Affirmative Action Employer. Our Company is committed to equal employment opportunity for all applicants and employees without regard to gender, gender identity, sexual orientation, race, color, religion, national origin, genetic information, age, disability, veteran status, or any other legally protected status.