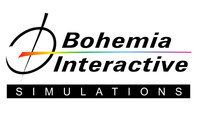 Senior Technical Sales Support
Description
We are developing world leading game-based military simulations for major NATO powers and their allies. We are constantly looking for ways to advance the whole industry, using the latest technologies and trends (such as whole world simulation, virtual reality and motion tracking).
We are hiring an experienced Senior TSS to work on cutting edge technology in a super fast paced industry in which Bohemia Interactive Simulations (BISim) is forging the way and introducing new paradigms! Join a group of expert developers with a passion for bridging the gap between commercial/gaming technology and simulation. Bohemia Interactive Simulations is a multi-cultural, international company with many opportunities globally.
The Senior TSS is responsible for requirements analysis, design, documentation, support, and maintenance of new and existing systems and the creation of new integrated software solutions. You will work with external customers and partner companies in support of custom integrations of BISim software products into customer systems. You will use your extensive industry experience and sound judgement to work internally with senior engineers, program managers, product managers and the sales staff to design quality solutions that meet customer requirements, time frames, and align with our product capabilities. You will be considered a top level contributor, and will be looked upon as the key point of contact with many customers and on internal initiatives.
Requirements
Reporting to: Systems Architect

Key Areas of Responsibility
Directly support business development efforts including teaming with US BDs on customer meetings (on-site or BISim offices) to present technical elements of pitch and answer questions;
Proposal development through engineering analysis (technical planning; system design and analysis; requirements development; and the allocation of requirements to hardware, software, and integration & test), technical proposal writing, and technical estimations for statements of work (SOW)
Develop and conduct targeted product demos for key opportunities as requested by US BDs and internally brief TSS and BD staff on their use
Build a deep understanding of how BISim products can be best leveraged within customer use cases, providing reasoned feedback to Product Management and Development on both customer usage of BISim products and general industry trends.
Liaise with the development team, business development, product management, program management, and the customer to ensure the logical and systematic conversion of customer and product requirements into solutions that acknowledge technical, schedule, and cost constraints
Objectives
Maintains professional attitude during all stages of development; excels as a team member and strives to maximize personal, team, and company performance
Offers very strong personal communication skills, with both internal and external stakeholders
Observes deadlines and manages internal and external dependencies; endeavors to exceed expectations
Recognized as an expert on BISim and other related technologies within the industry
Projects professionalism, confidence, deep product knowledge, deep experience of turning ideas into requirements and an ability to deliver in all interactions with customers
Role Qualifications:
US Citizen
Must be willing and able to obtain a security clearance (Security clearance guidelines)
Bachelor's/Master's Degree in Systems Engineering, Electrical Engineering, Computer Science or related field.
Strong knowledge and experience with game engine technology and software development toolkits used for the development of real-time rendering and simulation solutions.
Deep experience of working with customers to understand their technical requirements
Training and Simulation Industry technical experience (minimum 5 years, 10+ years preferred)
Excellent written and verbal communications skills and the ability to work in a team oriented environment
Willingness to travel up to 25% of the time
Benefits
BISIM Inc. provides the following benefits:
32 hours of paid sick leave per year
Starting at 96 hours of paid vacation per year
10 paid holidays
Paid Parental Leave
Significant company contribution towards medical benefits
Safe Harbor 401(k) Qualified Retirement plan, including a 3% company contribution
Company paid Life Insurance plan
Bonus incentive program
Bohemia Interactive Simulations, Inc. (BISIM) is an Equal Opportunity/Affirmative Action Employer. Our Company is committed to equal employment opportunity for all applicants and employees without regard to gender, gender identity, sexual orientation, race, color, religion, national origin, genetic information, age, disability, veteran status, or any other legally protected status.