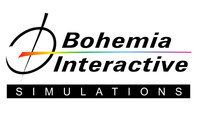 Technical Game Designer (all levels) - military training simulations
Description
We are a growing team based in Prague (Czech Republic), developing world leading game-based military simulations for major NATO powers and their allies. We are constantly looking for ways to advance the whole industry, using the latest technologies and trends (such as whole world simulation, virtual reality and motion tracking).
Our Technical Game Designers fill a unique role as a "jack of all trades"; blending strong coding knowledge with traditional game design and other soft-skills such as teamwork, communication, and the ability to think in terms of usability, player-experience and training value.


We offer a work environment completely different from AAA game development:
We give you freedom and responsibility to do things well, support you, train you, and teach you.
We have a relaxed environment where we aim not to limit our staff with too many regulations. We trust you.
We offer a wide variety of work and a crunch free environment due to our management standards and business model.
You will be a part of an Agile team, and will participate in development from the very beginning of a project.
As a designer you will lead the way on how new features are implemented into our products; working closely with the customer or internal stakeholders to meet their needs.
You will join a growing company with a lot of exciting opportunities and new challenges.
Our business has a worthy cause, the work we do has an actual impact on making the world a safer place.
Requirements
We are looking for people of all skill levels.
As a Technical Game Designer you will become intimately familiar with the feature set of our products. You will discuss training requirements with customers and use your design skills to help determine the best way to represent them as new software features. Using your technical skills, you will work with different disciplines (such as art, programming, and QA) to get the feature implemented and fulfill the vision. You will need flexibility and creativity, as projects can range from a simple set of infantry features to a complex armored fighting vehicle simulator. No two projects will be the same, always bringing a new challenge!

Do you have what it takes?
Relevant college degree or experience in game development / simulations industry
High level of initiative, self-direction, and self-teaching
Experience with at least one any scripting coding language (eg lua, C#, python, etc) and the ability to learn our proprietary scripting language
Strong English communication skills, excellent teamwork and consensus-building ability
Extra credit if you have any of these skills:
Ability to plan, execute and finish projects in any field
Previously shipped entertainment titles (especially FPS)
Experience with the ArmA game series (especially modding)
Military knowledge, experience or interest
UI/UX design
AI design (eg behavior trees)
Web technologies (eg HTML, JS, Angular)
Object-oriented programming (eg C++, C#)
Benefits
More than just salary:
Plenty of time off:

5 weeks paid vacation
10 paid national holidays
3 paid sick days

Casual, flexible work environment:

Choose your own start and end times around our core hours
No dress code

Grow your skills and career:

Opportunities for paid training and conferences
Coaching & mentorship from industry veterans

Expat friendly:

Visa & relocation assistance
Czech language not required

All company business conducted in English
Prague has many foreigners; it is easy to live here if you speak English
Many fellow employees from around the world will help you adapt