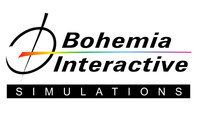 VDT Junior Build / C++ Engineer
Description
Bohemia Interactive Simulations (BISim) is a world leader in providing simulation technologies and integrated training solutions to military and civilian organizations around the globe. With origins in the gaming industry, BISim repeatedly delivers high-fidelity, low-cost, disruptive technology into the virtual, tactical, military simulation domain. BISim successfully exploits game-based technology with stunning visuals and applies this to a range of breakthrough, military-specific training and simulation products. Bohemia Interactive Simulations has established offices in Australia, Czech Republic, United States, United Kingdom and Poland. For its Czech branch, BISim is offering a position for a VDT Junior Build/ C++ Engineer who's ready to work with a cutting-edge simulation system and plug into a team of young, highly talented developers.

What Is VBS3: Versatile Desktop Training & Simulation Software.

Requirements
Build engineering duties:
Technical guarantee of particular builds' pipelines setup and supervise it's used properly
Consideration of VBS3 building pipeline technical issues and future improvements, involvement of already existing autotest foundation
Cooperate on particular builds mostly with VDT developers but also across other development departments to achieve both points above
Participation on documentation of the deployment process
C++ engineering duties:
Investigation and development of VBS3 engine and surrounding core components
Development on integration of new autotest system approach
Documenting missing parts of the VBS3 engine
Intensity of work on these two areas described just above depends on current time of the building lifecycle. There are usually 3 or 4 major releases in a year. When it comes closer to final delivery, the build engineer duties become more important and vice versa. The vision is to either keep up with both, at least initially. Later, when more (especially C++ programming) skills and experience acquired, it will be possible to move to a regular team dealing with either internal research and development projects or customer projects.
Benefits
Diverse, challenging, yet fun work environment with real-life applications.
Opportunity to work on top-of-the-line, cutting edge products employed by military organizations and non-military users around the globe.
Use of the latest hardware and software technology (such as that employed in the field of VR).
Opportunity to use your skills even outside of your role, with the option to grow outside of your role.
Ability to influence how we do things, and have a direct impact on our products.
Work with and learn from talented colleagues.
Full-time employment with a competitive salary.
5 weeks vacation per year.
Various benefits, such as meal vouchers, Multisport card, and cinema tickets.
We don't offer just a job, we want to give you the opportunity to grow, and to move the simulation market forward.
Visa & relocation assistance