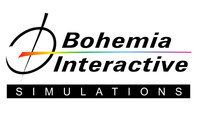 Product Owner / Team Leader - military training simulations
Description
We are a growing team based in Prague (Czech Republic), developing world leading game-based military simulations for major NATO powers and their allies. We are constantly looking for ways to advance the whole industry, using the latest technologies and trends (such as whole world simulation, virtual reality and motion tracking).
Our Product Owner / Team Leads fill a critical leadership role in development of VBS3 and related products. Responsible for both people- and project-management, they directly lead a small, cross-functional team of experienced professionals (including programmers, designers, and testers). They act as an Agile Product Owner for all projects assigned to that team, given wide freedom and responsibility to work with customers and stakeholders to create a vision and plan for the features the team is developing. They coordinate with other dev teams who are also working on the same product, to ensure all the work of all teams comes together for each major release.
Our unique environment is better than developing AAA games or boring business software:
We give you freedom and responsibility to do things well, support you, train you, and teach you.
We have a relaxed environment where we aim not to limit our staff with too many regulations. We trust you.
We offer a wide variety of work and a crunch / overtime free environment due to our management standards and business model.
You will join a growing company with a lot of exciting opportunities and new challenges.
Our business has a worthy cause, the work we do has an actual impact on making the world a safer place.
Requirements
This job is extremely challenging. We are looking for someone who has lead before.
You will have to balance people-management with project-management for a team of approximately 6 staff including programmers, designers and QA. You will need proven leadership experience, as well as high levels of self-motivation and determination to get the job done. You will also need experience in Agile development practices, and the ability to manage projects for on-time, on-budget and on-quality delivery. High levels of emotional intelligence will be required to lead your team to higher levels of performance while managing stakeholder and customer expectations.
Do you have what it takes?
4+ years experience in software development (any role; QA, programming, design, etc)
1+ years experience in a leadership role (eg PO, team lead, producer, PM, etc)
Professional experience in at least one of these contexts:

Fixed price, fixed scope and fixed deadline contracts
Government contracts
Simulations development
Video game development
Business analysis / requirements analysis

Clear understanding of Agile development (especially Scrum and Kanban)
Extra credit if you have experience in any of the following:
Military knowledge, experience or interest
Experience with the ArmA game series (especially modding)
First person shooter (FPS) development
Artificial Intelligence (especially game AI)
Formal project management (Agile or waterfall)
Formal product management
Benefits
More than just salary:

Annual performance bonus (up to 1 month's salary)
Full health coverage
"Stravenky" meal benefit program
"Multisport" health benefit program

Plenty of time off:

5 weeks paid vacation
10 paid national holidays
3 paid sick days

Casual, flexible work environment:

Choose your own start and end times around our core hours
No dress code

Grow your skills and career:

Opportunities for paid training and conferences
Coaching & mentorship from industry veterans

Expat friendly:

Visa & relocation assistance
Czech language not required

All company business conducted in English
Prague has many foreigners; it is easy to live here if you speak English
Many fellow employees from around the world will help you adapt