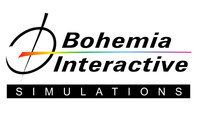 Description
Who are we and how do we make a difference?
Bohemia Interactive Simulations is the leader in the serious simulation market; providing training software for the most demanding customers, both in military and civilian sectors. We are developing future proof technologies, which move the whole simulation industry forward. BISim is a growing company full of passionate professionals, industry experts, and gamers.
We believe in saving lives through simulation, and that is why quality is so important for us. For us in Bohemia, QA is a service we provide to our customers and colleagues alike, and we want to make sure we give them best service there is.
How can you help us make a difference?
As a QA Test Engineer you will be ensuring that test scripts are written, automated testing tools are maintained, triaging auto test failures, implementations are documented and that all stakeholders are aware of the quality. You will be an active part of the whole process from the start, involved in discussions with developers and customers alike.
You will help us tailor existing processes and make new ones to support our growth. You will have direct impact on how we do things and where we go as a company. We are people focused and care about your opinion.
You will use various programming languages (C#, Java, Python, C++, etc) and automated testing tools (Selenium, Sikuli, etc) to implement and improve our current suite of automated test cases. You will also have the opportunity to expand our Jenkins automation testing pipeline.
How can we help you to grow with us?
We give people space to do things well and not limit them by too many regulations.
We do not want to restrict your career growth within the company, we want to help you grow as we grow.
We have offices all around the globe, full of experts who you can learn from.
You will work with the latest technologies (such as VR).
You will have the chance to impact our products by actively participating in every stage of the development cycle, even outside of QA.
We have a team environment where you do not have to be afraid to make mistakes. We want to learn from them and not repeat them.
Requirements
Must be a US Citizen
Must be willing and able to obtain a security clearance.
Who are we looking for?
People with proactive mindset. Those who follow up on the issues, instead of just passing them over. Who search for a solution, suggest a way forward. Those who thrive in cooperation, who like to take responsibility.
Must be proficient and experienced with programming languages such as: C++, Java, Python, C#. Any additional programming languages are an advantage.
Experience building test automation strategies, frameworks, scripts and tools is highly desired.
Any previous experience with Automated Testing Tools such as Selenium or TestComplete is an advantage.
Any previous Quality Assurance experience is a huge advantage
People who are familiar with Continuous Integration (CI) tools such as Jenkins, Gitlab CI, etc is a bonus.
Those who are helping others to grow and strive themselves for self-improvement.
People who prefer face to face communication, openness, transparency and treating others with respect. Those who are resolving issues right away.
Team members being able to focus on what truly matters, prioritize, see greater picture and not get bogged down with details.
People who like being challenged, those who do not give up easily, but understand reason.
We are looking for US Citizens eligible for a security clearance (Security clearance guidelines).
Any experience with agile development and software / game development are an advantage.
We are looking for people of any experience level.
Benefits
BISIM Inc. provides the following benefits:
32 hours of paid sick leave per year
Starting at 96 hours of paid vacation per year
10 paid holidays
Significant company contribution towards medical benefits
Safe Harbor 401(k) Qualified Retirement plan, including a 3% company contribution
Company paid Life Insurance plan
Bonus incentive program
Bohemia Interactive Simulations, Inc. (BISIM) is an Equal Opportunity/Affirmative Action Employer. Our Company is committed to equal employment opportunity for all applicants and employees without regard to gender, gender identity, sexual orientation, race, color, religion, national origin, genetic information, age, disability, veteran status, or any other legally protected status.