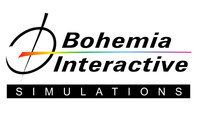 About Bohemia Interactive Simulations
Bohemia Interactive Simulations (BISim) is a world leader in simulation technologies, providing virtual training software to military and civilian organizations around the globe. Our core products are currently in service with many western military organizations in support of pre-deployment and other important training projects. By leveraging game-based technologies, BISim is able to deliver a highly advanced virtual training environment with realistic visuals and behaviors that can be applied to a range military or government agency training scenarios.
Since our founding in 2001, BISim has produced several serious game products. Our primary focus has been the development of the Virtual Battlespace series including our latest iteration Virtual Battlespace 3 (VBS3). The software continually evolves as our customers implement VBS software into existing or new training systems. In 2013, BISim was acquired by The Riverside Company and became separate from Bohemia Interactive Studio. BISim continues to maintain a technology sharing agreement with Bohemia Interactive Studio.
Bohemia Interactive Simulations, Inc. (BISIM) is an Equal Opportunity/Affirmative Action Employer. Our Company is committed to equal employment opportunity for all applicants and employees without regard to gender, gender identity, sexual orientation, race, color, religion, national origin, genetic information, age, disability, veteran status, or any other legally protected status.